Attention! Our next auctions will be on:

January 18th
January 25th

If you are not already signed up for online bidding
please do so prior to our next auction!
It's very easy to do. Click below:

Register Here



Updated on January 15th

Our current auction protocol is described below. Please check back here frequently for updates.

Below are a few answers to some expected questions regarding our next auction.

Can I physically inspect and drive the vehicles?

Yes, Using hand sanitizer prior to touching each vehicle is REQUIRED and will help us keep things safe for everyone involved.

Please place your bids online.

Bidding online reduces the risk to our staff which is incurred through physically sharing hand-written bid sheets.
Attendance in-person allowed now. However, once again, we ask that you place your bids online to protect our staff.

Will the building be open?

Yes, The showroom is now open.

Can I use the bathroom?

Yes, the bathroom is now available

At delivery you may test-drive the vehicle(s) you won when you come to pick up them up.

How do I enter my bids?

Online

Entering you bids online is the preferred method.

Online bids may be added and edited until 4:00pm on the day of the auction.

*Vehicle descriptions are often updated on auction morning so please plan your online bidding accordingly.

Upon completion of the auction we notify winning bidders via email. Emails to the winners are usually posted by 6pm, possibly a little later during this challenging time.

Fax

Faxed bid sheets are also accepted, please make sure you have a confirmation that your bid sheet went through as we will simply not know unless it comes through on our machine. Please feel free to call us to confirm we have received your fax.

Email

Scanning your bid sheet into PDF format and emailing it to us at vanbortelauction@gmail.com is also acceptable. We will reply to all bid sheets received via email as a confirmation, so if you do not receive an email reply please call us!
Please do not email images/pictures of your bid sheet as they arrive in all shapes, formats and sizes and are extremely difficult to work with.

In-Person

Yes, we will accept bid sheets in-person on auction day. We would prefer to keep this to a minimum to protect our staff.

If coming in person, please observe all the safety precautions recommended by the United States CDC. https://www.cdc.gov/coronavirus/2019-ncov/prevent-getting-sick/index.html

When can I pick up my vehicle?

As always, kindly pick up your vehicle(s) by Wednesday afternoon so we have room to stage next week's auction.
We understand that some other auction houses are not in operation yet and it would be convenient to leave your vehicles here until they open but we simply do not have the room to accommodate additional vehicles here. We appreciate your understanding.

Our auctions start Monday at 9am and end at 4:00pm



At Van Bortel Auction, vehicles, currently 2011 and older, receive an abbreviated check-over process and are sold AS IS. This check-over includes only the engine, transmission, and frame. If the engine and transmission operate acceptably for their age and/or mileage, we will report that as Engine Ok and/or Transmission Ok. If we find that a frame has a corrosion issue that would prevent it from passing NY state inspection we will report that as Frame Rot. We do our best to facilitate personal inspection of these vehicles and we ask that you please do not bid without actually seeing and driving them.

Please note: While we do our best to acquire all available keys during the trade-in transaction we are not always successful, therefore not all Auction vehicles will come with an extra key.

Thank you for your business!
Our fax number is 585-924-8723.
Our Title Clerk, Karen, can be reached at: 585-924-0583
Website questions may be emailed to Steve Casey at: webmaster@vanbortelauction.com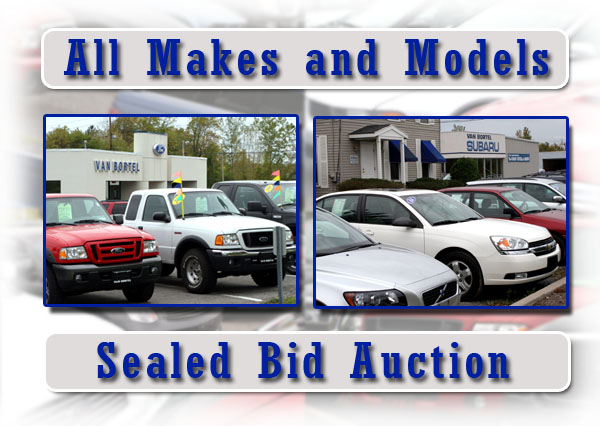 Located at the corner of Route 96 & Route 251.
Where: 7325 Route 96 Victor, NY 14564
When: Scheduled auctions start at 9AM and end at 4PM.
We also have pre-view hours on the preceeding Saturday from 9 to 3
This auction is not open to the public